---
🏄‍♂️ 6 tips to be an active hybrid team member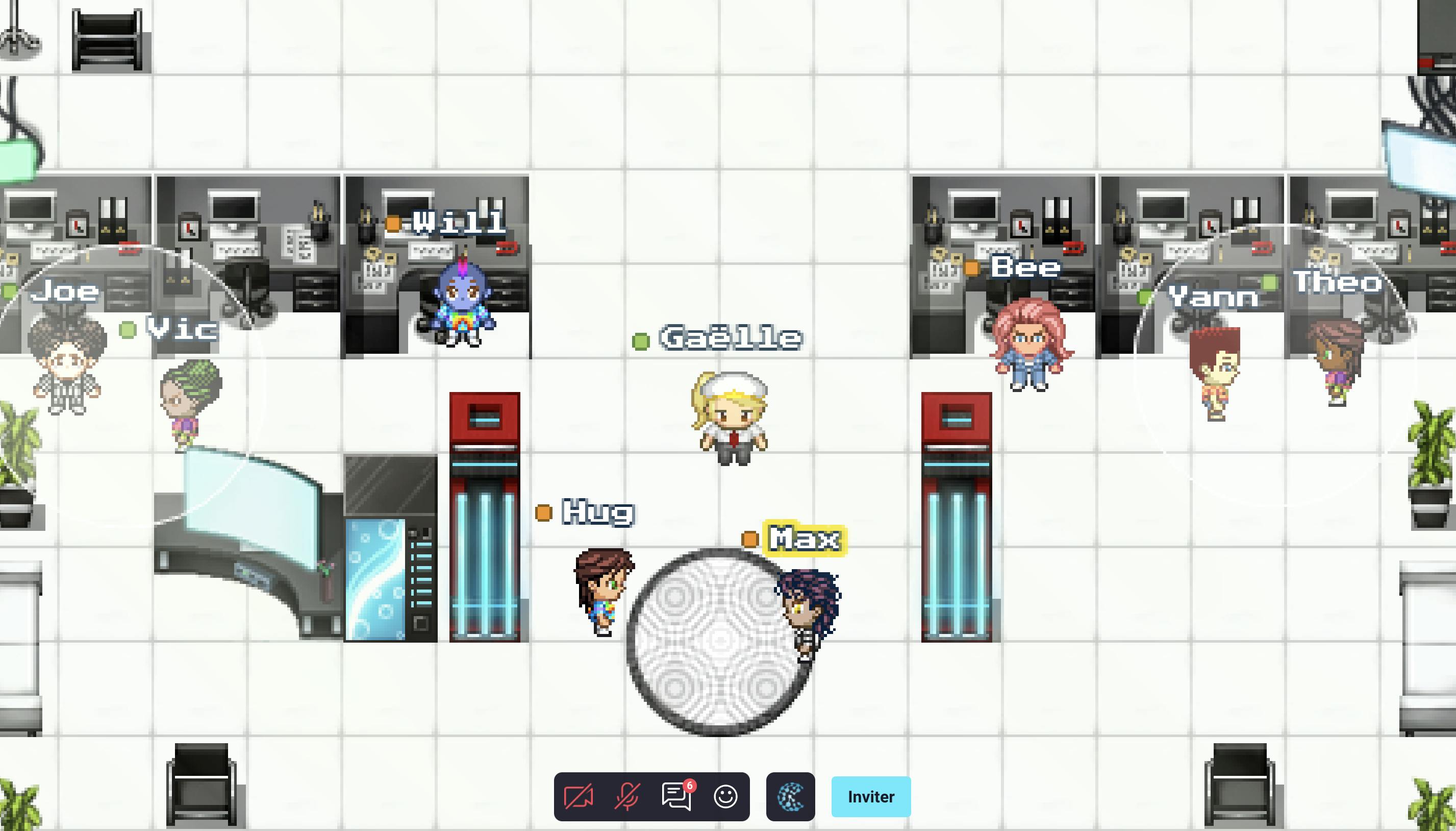 Interacting with colleagues via webcams is one of the great challenges posed by the Covid-19 pandemic and remote work. And even if many people have returned to the office, teleworking seems to be here to stay. Indeed, more and more companies are adopting remote working and have hybrid teams sometimes spread over several countries.
But how to be an active employee involved in the dynamics of the company when working within a hybrid team? Here are 6 tips to overcome this challenge!
1. Be flexible 
Under hybrid working, some employees choose to telecommute. It is therefore important to put in place systems that facilitate mobility and allow everyone to work from anywhere. A virtual workspace like WorkAdventure is a good solution in such conditions. Each employee must be trained to adapt to the use of this type of technology to remain active in the team.
2. Connect with colleagues
One of the key phases to being an active member of a hybrid team is creating affinities with colleagues. You must first memorize the surnames, first names and functions of all your colleagues. It is then essential to take an interest in each of them by taking advantage of the lunch or the coffee break to discuss. Be careful not to fall into misplaced curiosity or formal questioning. Be patient: building good professional relationships takes time and it's ok!
3. Pay attention to communication in the hybrid workplace
One of the biggest challenges posed by the hybrid work model is maintaining communication and contact regardless of worker location. WorkAdventure can once again serve as an internal and external communication tool for your hybrid workplace. 
Thanks to it, not only will you be able to take care of your customers from anywhere, but you will also be able to make calls to any member of your company, write to them via a chat and even organize video conferences. All this allows you to maintain smooth communication with your colleagues.
4. Adapt to the corporate culture
If you have worked in various companies during your career, you know it only too well: each company (and even each service) has its own way of doing things, its rules, its traditions, its rituals, its values and even its own language.
To integrate well into a hybrid team and get closer to your colleagues, it is therefore essential to understand the corporate culture and respect it. The difficulty lies in the fact that most of these rules are tacit and unwritten, so you have to be observant and know how to decode the uses and the things left unsaid. In short, be ready to adapt, go with the flow and take part in the corporate culture.
5. Listen and open your eyes
Being in listening mode and making observations can give you some clues on how to interact with your colleagues, know which people are going well with you. The idea is not to stand back or remain silent, but to bet on understanding how the company and the hybrid team work. Also, do not forget to be careful about people around you.
6. Participate in company events
Participating in company events can also be a good way to get to know the products, services and collaborators of the different teams. Several virtual events are possible for a hybrid team:
Virtual cafés

Team lunches by videoconference

Online meet-ups

Workshops

Networking & team building

Webinar…
To conclude
Technology is a key component for increasing productivity in any situation involving hybrid working. That is why WorkAdventure provides you with a flexible and versatile solution that will help you become more active as a hybrid team member.
If you are in a remote or hybrid environment, our virtual workspace allows everyone to work from anywhere in a simple and efficient way. It offers you an efficient and fully customizable tool, with all the features needed to coordinate and maintain contact with your hybrid team.
If you want to know more, do not hesitate to contact us. We will help you find the solution that best suits your needs.