---
🤸‍♂️ 5 hybrid team building activities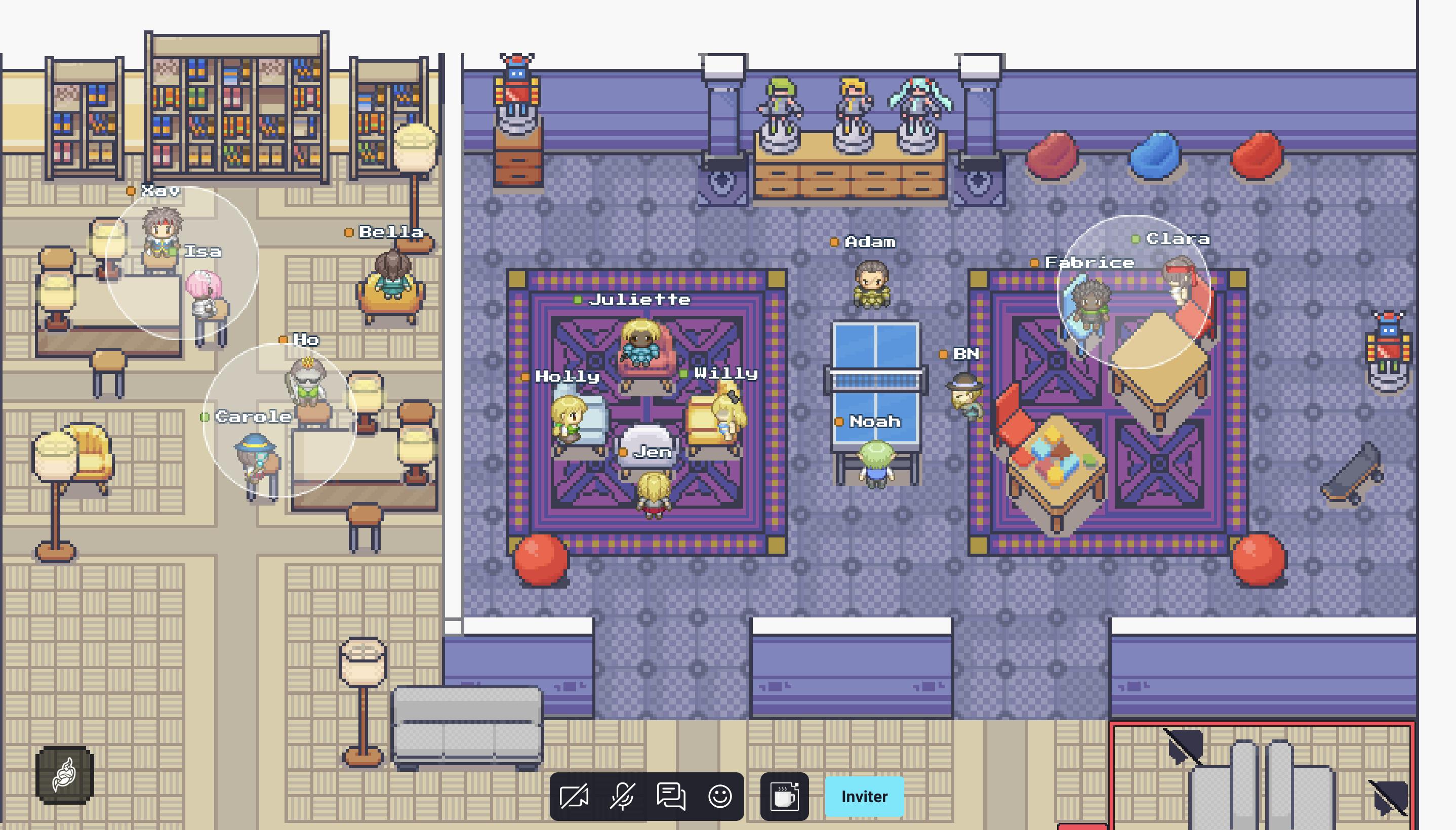 A hybrid team building activity is a meeting that can be both physical and virtual, combining face-to-face and remote activities. Participants can therefore attend the event physically, or from their computer or any other device that would be connected to the Internet.
Online team building activities can allow remote workers to get to know each other better, reinforce common goals and cultivate trust.
Here are 5 online hybrid team building activities that your employees will love!
1. The 20 Questions Game online
The first hybrid team building activity that you could try is a virtual version of the great classic that everyone has enjoyed for decades: the 20 Questions Game. The basic rule of this game is that each member of the team chooses an object (anything) and announces to the others the category of the object. For example, if the object is an apple, the category is "fruit". The others then ask up to 20 closed questions to try to guess the chosen object. A very simple game to organise as a hybrid team building activity.
2. Personal riddles for team building 
This game can be a fun and engaging way to help your team members get to know each other better, encourage empathy, and ultimately lead them to become a more effective and cohesive team.
Here is a step-by-step guide for this game:
When everyone has made their choice, answers are provided. Each team member can then present a story about their own personal information.
This very simple game can be a good hybrid team building activity. It is a great way to build team spirit, and it can actually be great fun!
3. The creative challenge
The Creative Challenge is another interesting hybrid team building activity. Invite your hybrid team members to make their own videos, alone or as a team, around a value (personal or company), or by illustrating what team spirit means to them. Although we may think this activity requires professional skills, we now have easy-to-use tools. For example, you can record videos and edit them directly with a smartphone!
This team building activity is also an opportunity for employees to learn how to make videos while having fun.
4. Virtual escape room game 
Another fun game that can be really easy to organise in a virtual environment is an escape room. It is a very attractive team building activity for your hybrid team.
You can get creative and design the puzzles yourself. You will also find services like The Escape Game Remote Adventures that can accommodate up to 8 players in a Zoom-based escape game. However, WorkAdventure also offers a great virtual space to create your own escape game. The little plus? You can entirely customize your escape game, there is no limit of players and the use of avatars is way funnier!
An interesting element with a virtual escape game is that you can choose exciting themes like zombie invasion, prison escape, treasure island, etc. It is andét effective hybrid team building activity to encourage relationships and discover each other's personalities while having fun together.
5. Blind draw team building activity
For this team building activity, divide your hybrid team members into pairs. Show a picture to one of the two team members, who must describe it without using words that would reveal it too easily. The other partner must draw what is described.
For example, you can show an image with a bear eating a fish, the person viewing the image will have to give instructions and use adjectives without ever directly saying "draw a bear eating a fish". After a defined time, both partners can see the original image and the drawing.
This is a great game that focuses on verbal communication and can help your hybrid team learn how to give effective instructions, and also correctly interpret abstract instructions under pressure.
WorkAdventure: a metaverse to organize your hybrid team building activities
WorkAdventure is a virtual space for business collaboration. It brings your employees together, whether it is on-site or off-site. It is also a fun place where you can easily organize your hybrid team building activities! 
Imagine a world where your employees, regardless of where they are, can meet up for social activities and get to know each other. This is what WorkAdventure offers you. Try it now for free!