---
Introducing WorkAdventure 1.16: Unleash Your Creativity!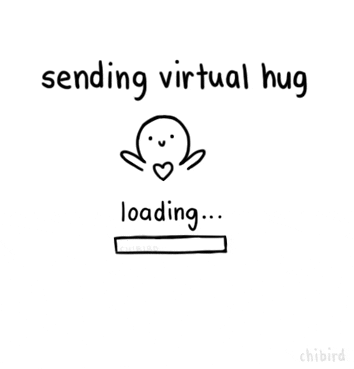 We're thrilled to announce the release of WorkAdventure 1.16, packed with innovative features that will transform your virtual workplace into a dynamic and engaging environment! 🎉
It's been quite some time since our last feature release. We usually ship a new major version every 2 months and it's been a whooping 4 months since the last release. This is because this new version brings a huuuuge amount of new features.
Ready? Let's dive into the exciting new features that will revolutionize your virtual workplace.
Design Your World, Live and Dynamic
Say goodbye to static maps! With the inline map editor, you have the power to shape your virtual space in real time. Imagine placing tables, chairs, and various objects seamlessly into your map. But that's not all - these objects can be interactive too. Picture a computer on a table, inviting everyone to explore new websites with a simple click.
Watch the video to discover it! 🔥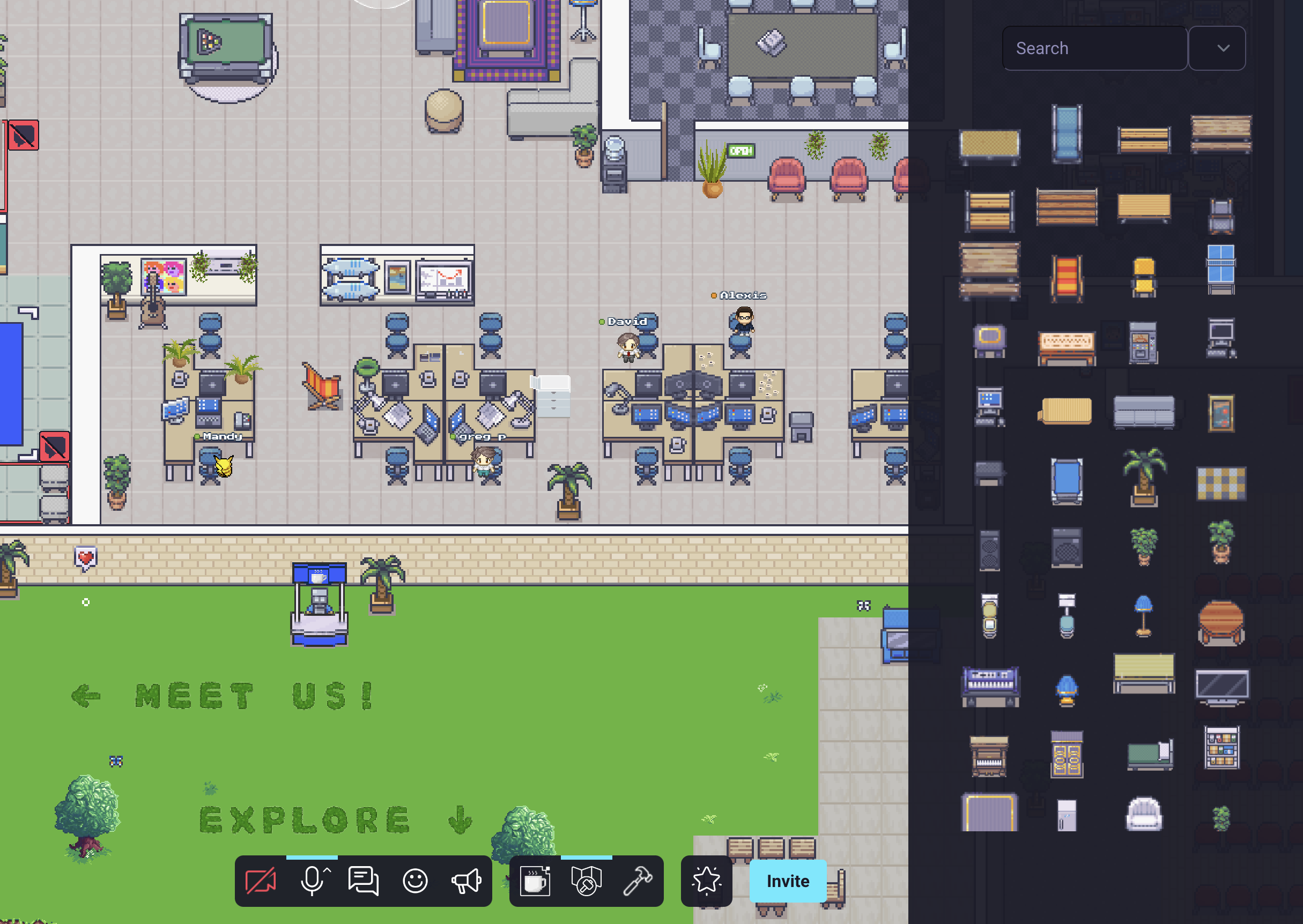 The map editor also introduces dynamic area placement. Define entries, exits, meeting rooms, and more, directly on your map. It's like crafting your own virtual floor plan, tailored to your needs. With the inline approach, every modification is instantly visible to your users, making collaboration and creativity a seamless experience.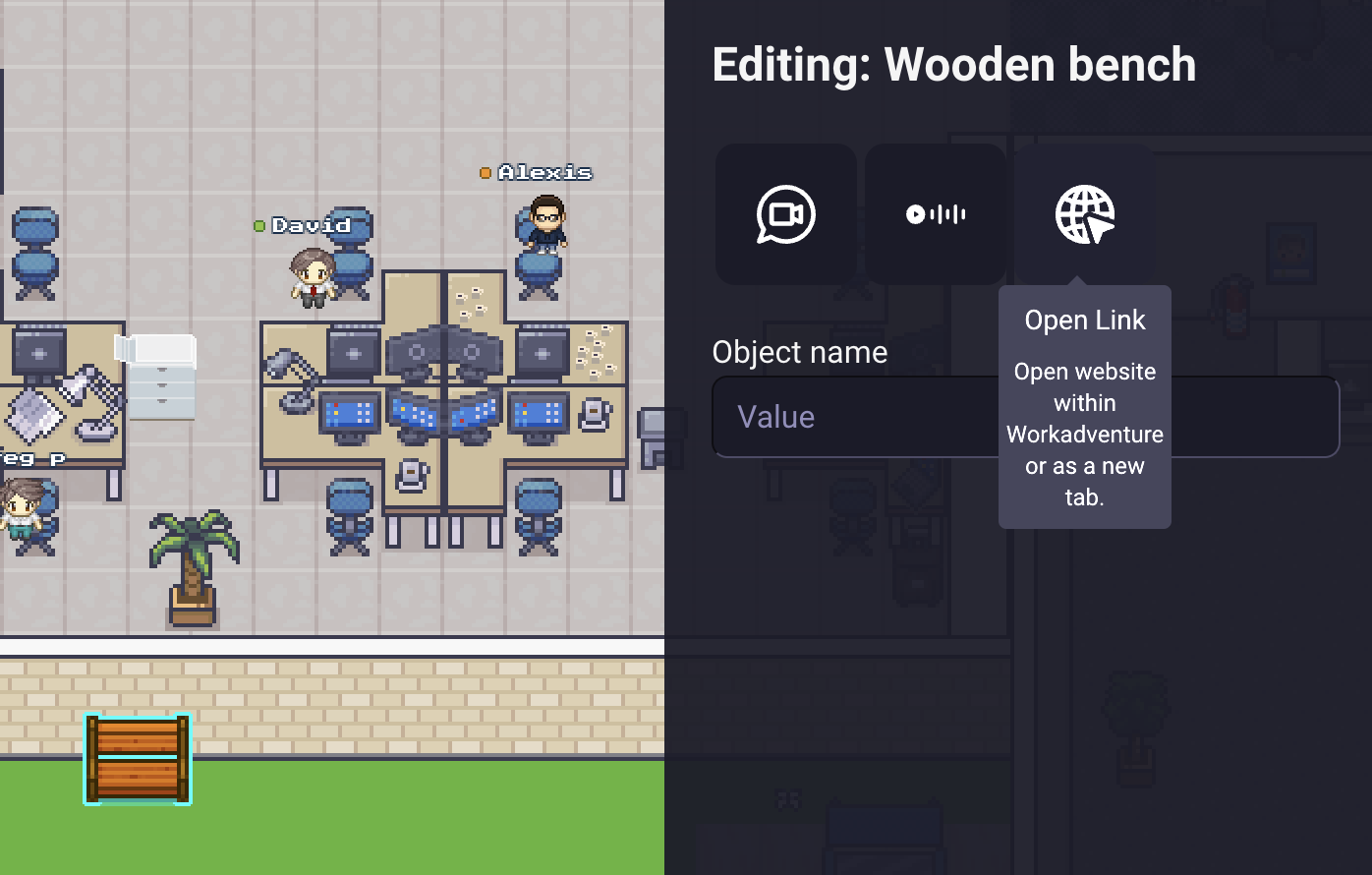 A Complete Revamp for Enhanced Performance
Behind the scenes, the map editor has undergone a comprehensive overhaul since the alpha version in WorkAdventure 1.15. We've split maps into 2 files to optimize functionality and performance. The classic ".tmj" or ".json" file from Tiled remains intact, while the brand new ".wam" file comes into play.
The inline map editor operates exclusively on the ".wam" file, stored on WorkAdventure servers. Your Tiled map can continue to be hosted in any web server, just as before.
Unleash Your Creativity with Ease
To ensure a seamless workflow, we recommend focusing on designing the floor and walls using Tiled, while leveraging the power of the inline map editor to furnish your rooms and add intricate details. As the map editor continues to evolve, we anticipate a transition towards doing more things in the inline map-editor.
Please note that uploading your own game assets directly through the map editor is not yet supported. For now, incorporating custom objects into WorkAdventure involves manually designing object collections using a custom JSON file. Rest assured, our team is continuously exploring ways to simplify this process and offer even more flexibility in the future.
Introducing the Megaphone: Amplify Your Voice!
Prepare to be heard loud and clear with the highly anticipated megaphone feature! WorkAdvengers, with the appropriate permissions, can now wield this powerful tool to address everyone in the same room. But that's not all – the megaphone's reach extends beyond a single room. You can even broadcast your message simultaneously across multiple rooms!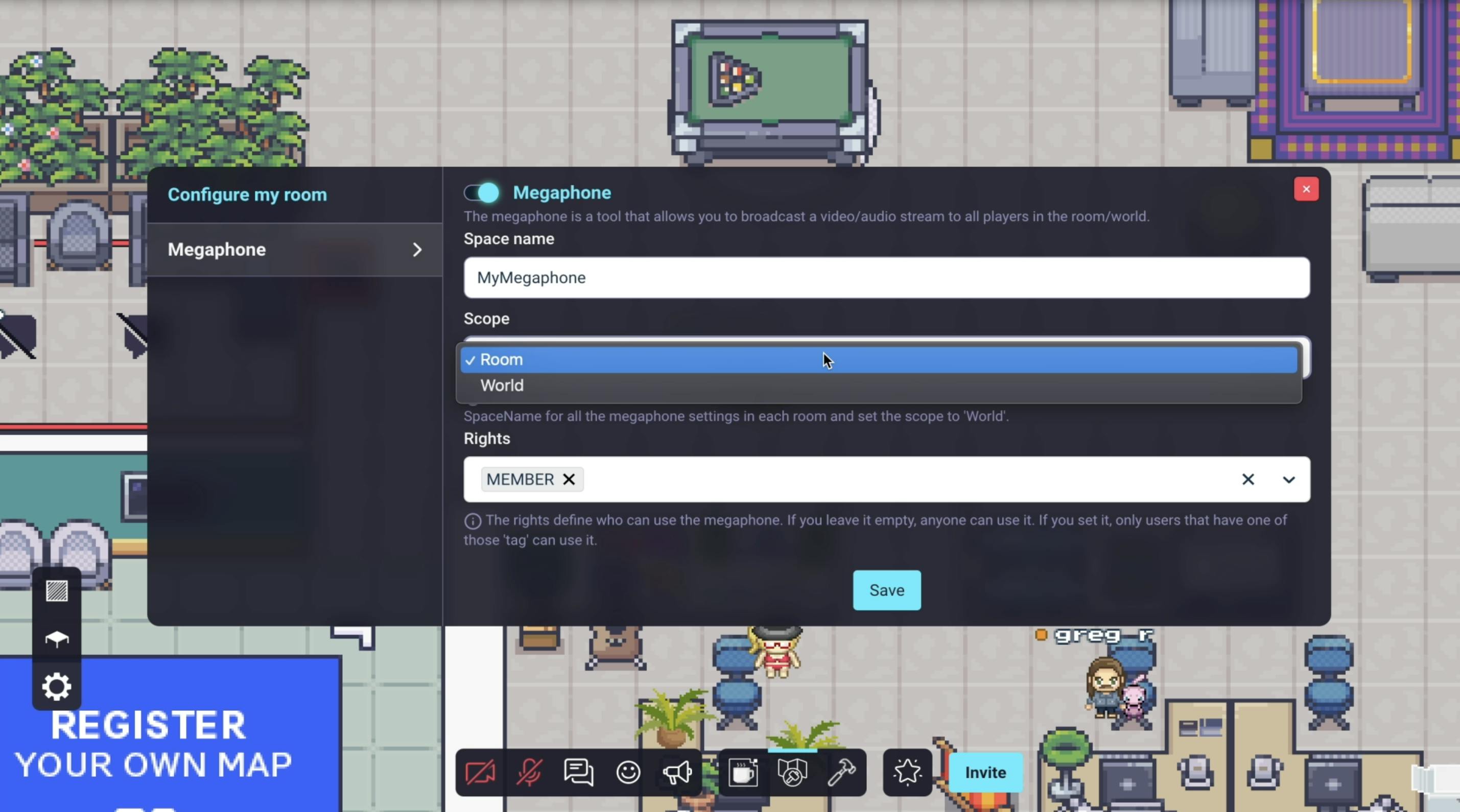 Imagine the convenience of calling all your colleagues or students without the need to physically traverse the space.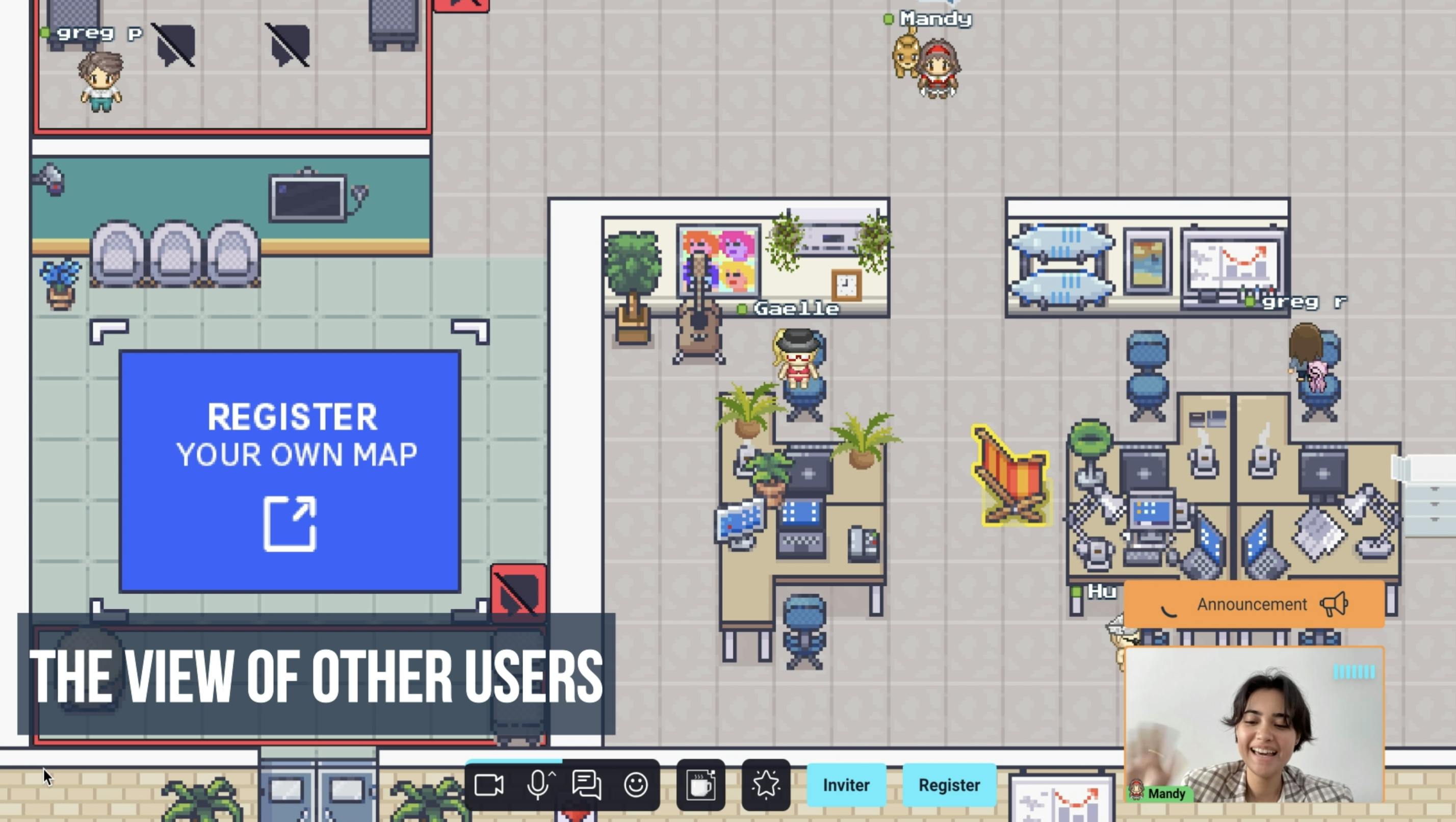 Integrate with the New Room API: Bridge the Gap Between WorkAdventure and External Servers!
Introducing the powerful Room API, enabling seamless communication between remote servers and WorkAdventure rooms. This groundbreaking feature allows your remote server to set variables within a room. Those variables are accessible through the scripting API. Furthermore, your server can monitor changes in variables within the room.
Leverage the Room API to connect your WorkAdventure room with the outside world, opening up endless possibilities for integration and customization.
Now, things happening inside WorkAdventure (someone entering a zone, someone triggering a button) can have an impact on the outside world, and as the opposite, something happening in the outside world (an email received, a client entering a physical space, etc...) can have an impact inside WorkAdventure.
For a comprehensive understanding of this feature, refer to the Room API documentation. Read also the article 🎯 Room API - Stay alerted from Grafana inside WorkAdventure.
Customize your companions
We're thrilled to announce a highly requested feature that takes customization one step higher - Companion Customization! While our premium users have long enjoyed the ability to personalize their Wokas, we heard your feedback regarding the limited options for companions. We are excited to inform you that you can now break free from the confines of three dogs and three cats and import your very own companions!
With a premium account, the possibilities are endless. Whether you envision a robotic sidekick, a majestic shark, or any other extraordinary creature that sparks your imagination, you now have the freedom to bring them to life in your virtual world. This feature adds a touch of uniqueness and personalization, allowing your virtual space to reflect your personality and creativity. Show off your customized companions to your colleagues, friends, or event attendees, leaving a lasting impression and fostering a sense of individuality within the WorkAdventure community.
Plenty of other improvements
That's not all! Since the latest major release, a huge number of smaller features and bug fixes have been developped.
I would like here to say once again thanks to our beloved community that has been contributing to make this release of WorkAdventure huge!
If you are interested into the details, you can check our release notes.
So what's next?
In the next release, we will be working on adding speaker/listener zones.
By configuring a "speaker" zone on a stage, individuals within this zone will become visible to the corresponding "listener" zone.
Listeners will actively interact with the speaker, either through text chat or by seamlessly joining the speaker zone and becoming speakers themselves.
We are also planning to work on some integrations, with our friends from Klaxoon and with Microsoft Teams! More on this later, stay tuned and enjoy this release!